By Erna Kim Hackett
In college I never felt any insecurity about the "women in leadership" debate because the Jesus that I was encountering in the Bible was so amazing and countercultural in his interactions with women.
When He let a woman sit at his feet to learn, just like his male students, he wasn't making a statement about busy people and meditative people. He was making an incredibly countercultural statement about women learning from Him and being trained by Him. When Jesus went to Samaria and revealed that He was the Christ, to a women, before anyone else, he was making a statement. When the Samaritan woman became one of the first evangelists in Scripture- leading both men and women, she stepped out of a traditional role. Jesus stayed and partnered with her in reaching her village.
Jesus' interactions with women were all the more striking because all this was happening in the Middle East 2,000 years ago. As an outspoken young Christian women- I found Jesus invigorating and inspiring. I knew that following such a counter cultural leader would be an adventure worthy of my life.
Church: Limiting the Scope of Women
Now, 20 years into this journey, it is a mystery to me how my radically counter cultural, gender role breaking, empowering Jesus has a church that is so comfortable limiting the scope of women's influence and leadership; that paints women into such antiquated and irrelevant roles. A church that relegates women's leadership to children, snacks, and prayer groups. A church that communicates that when we gather, our bibles must be pink, our topic must be grace, and our graphics must look like feminine hygiene commercials.
The reason this topic is important for a forum like APE is because, if we really want to see the Kingdom go forward in a radical way, we should make sure that the whole body of Christ is activated, empowered, trained, engaged, and sent in the name of Jesus.
I'm not interested in doing a discussion of egalitarian and complementarian. Far smarter people have done very insightful writing on the topic. I want to use my little corner of this blog to explore the place of women in the apostolic. I want to share the stories of women that have successfully planted ministries and explore the tensions of being a woman in an apostolic role.
Are APE roles just for men?
Personally, I have an incredible felt need to be poured into and developed as a woman leader. But particularly when it comes to being apostolic, prophetic, and evangelistic. These roles are associated with a traditionally white male archetype.  I think that women in the church are hungry for development in this area. But I think that they can be overlooked because they don't fit the traditional mold, overlooked by leaders, but also overlooking themselves.
Anecdotally I posted this is my FB status today.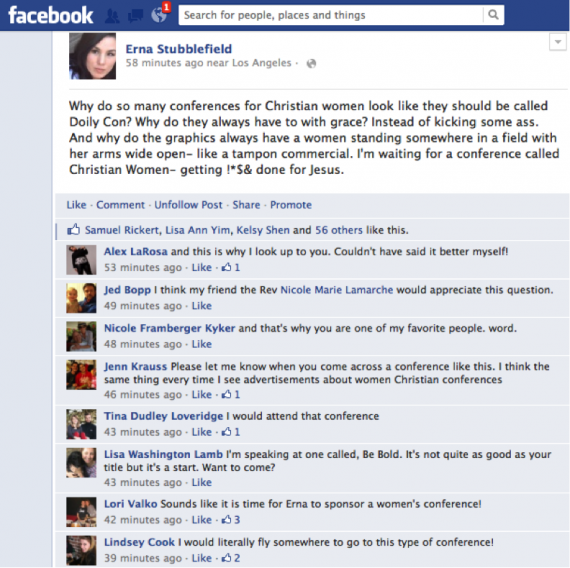 The response was immediate. Comments from Christian women streamed in. Christian women are hungry for a role that is less docile and more front lines.
If we are truly hungry to see the kingdom expanded we have to address the reality that the Christian culture and community is often the greatest hindrance to women.
Where do you see the tensions of women in the apostolic role? Would love to hear your thoughts!