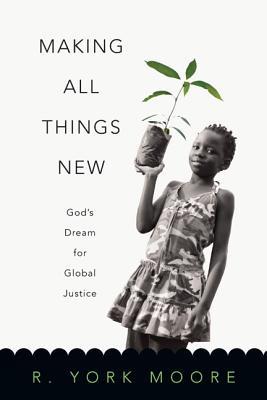 Here is the first free book giveaway for 2013!
This week we are giving away

"Making All Things New: God's Dream for Global Justice" by York Moore
5 COPIES!!!!
This book really helps us think about "God's Dream" for the world and how He is on mission to make all things new. York helps us take a deeper look at brokenness, injustice and God's redemption all in light of the end time reality that Jesus will come back and reign as King.
I know York personally and he has a a huge heart for both justice and seeing things made right, but also evangelism and seeing people come to know Jesus Christ and start personal relationships with Him. He is really onto something here with his writing and his book as he brings the two together so we can better see and understand the full story of God!
Here is how to enter yourself for the drawing…
You can enter the drawing by doing any one of these four things. Each one is a separate entry, so you can have multiple shots at this book if you do them all!
Comment (2 winners)

Comment on this post below and share with us one thing you want to see made new. (2 winners)

Twitter (1 winner)

Tweet this post (below) using @releasetheape in the tweet. (each tweet is +1 entry)

Facebook (2 winners)

Comment on our Facebook Page telling us why you want the book!
Share the post on FB (below) and email me letting me know you did (beau@releasetheape.com)

APE Newsletter (1 winner)

Sign Up to automatically enter yourself into the drawing!

Iam going to give away a copy of the book just to those receiving our newsletter!

every quarter I send out a e-newsletter with encouragement and materials you will not find on the blog

Here is a look at the last one (It includes materials for creating and empowering apprentices)

Sign Up to automatically enter yourself into the drawing!
So just to be clear, you can win by commenting, tweeting or Facebooking or signing up for our newsletter!
You can tweet as many times as you want for a chance to win!
The contest will be open all week!
I will notify you next weekend if you have won by replying to your comment, tweet, Facebook post, or emailing you personally from the newsletter list!
Five Books will be given away this week. *All winners will be chosen randomly*