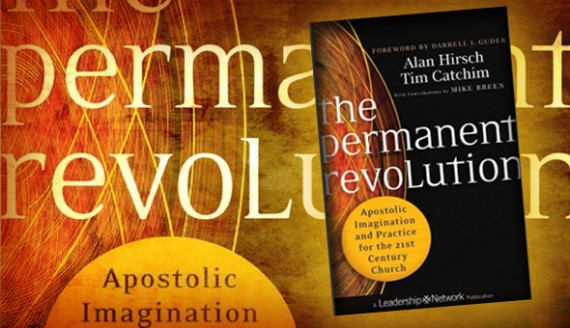 Here we are again for our next book give away!
The last one was great and we had awesome participation!
Let's do it again!
This week we are giving away "The Permanent Revolution" by Alan HIrsch and Tim Catchim.
5 COPIES!!!!
And they are really nice and hard back! I am tempted to steal one and not give them all away…that's how good they look!
This is a great book on apostolic leadership and it really makes the case in an in depth way for why we need to release and empower the apostolic vocation in the church. If we want a "Permanent Revolution" then we need the apostles released.
You think I like this book 🙂
THIS BOOK gives great attention to the apostolic vocation and goes in depth with describing it and giving us language.
I am really excited for you to get this book!
Also, if you are in LA area this Friday and Saturday, there is a great event at Fuller Seminary, LA 2012, where Alan will be presenting his book and JR will be presenting his. It is really cheap to come. Like $20 for a whole group! Check out the event here
Here is how to enter yourself for the drawing…
You can enter the drawing by doing any one of these four things. Each one is a separate entry, so you can have multiple shots at this book if you do them all!
Comment (2 winners)

Comment on this post below and share with us one question you have about the apostolic vocation? (2 winners)

Twitter (1 winner)

Tweet this post (below) using @releasetheape in the tweet. (each tweet is +1 entry)

Facebook (2 winners)

Comment on our Facebook Page telling us why you want the book!
Share the post that is on our Facebook Page on your wall or in a group (make sure to share the one on our wall or I cannot tell)
So just to be clear, you can win by commenting, tweeting or Facebooking!
You can tweet as many times as you want for a chance to win!
The contest will be open all week!
I will notify you next Sunday night if you have won by replying to your comment, tweet or Facebook post!
Five Books will be given away this week. *All winners will be chosen randomly*