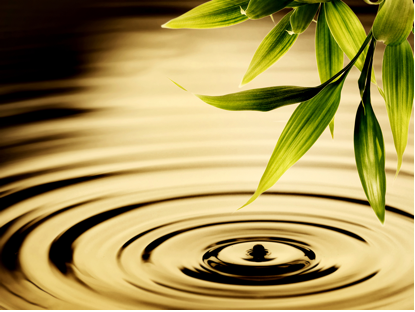 As apostolic leaders we get fired up every time we meet students who want to step out in mission. We want to help them vision for what God could do in their lives and their friends' lives. We want to go with them into their corners of the campus and help them plant the gospel there!
But we've become deeply aware during this season of ministry that we can't do life on life discipleship with everyone. We long to see a generation of college students mobilized for mission on Nebraska campuses, but we've wrestled with the question of how we can empower every student we work with to grow in lives of missional discipleship.
Here's our attempt at putting together a simple, reproducible tool to help students develop some rhythms of missional discipleship. There are three areas: Up, In, and Out and each one has a weekly and a daily practice. Almost none of this is original on it's own. We've borrowed and combined ideas from Michael Frost, Alan Hirsch, and Mike Breen. Check it out: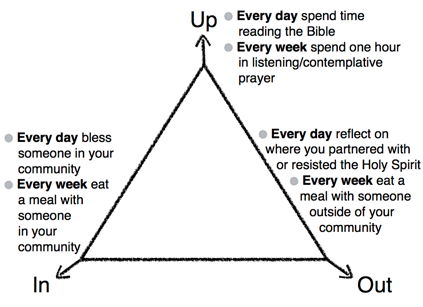 Up – growing in intimacy with God
Spend time everyday reading the Bible.
This seems obvious. It's all about being like Jesus. If we want to grow as followers of Jesus, then let's take time every day to look at Jesus, to see what he's like, and start being like that!
Luke 6:40 says, "Every disciple when fully trained will look like his teacher."
This is the goal of discipleship: grow to look more like Jesus. And looking like Jesus starts with looking at Jesus.
Spend an hour each week in listening/contemplative prayer.
I'm becoming more and more convinced of how crucial it is for every disciple to learn to hear the voice of Jesus. Responding to challenges and invitations from leaders, peers, and books is great. But if we can't recognize the voice of God in our lives then we're missing something.
The students we work with who know how to hear from God are unstoppable. They recognize conviction from the Holy Spirit. They can bring their issues to God and expect Him to actually lead them forward. And they can pray for their friends and see God speak into their lives in supernatural ways. Spending time learning to hear from God is crucial, but contemplation in silence and solitude is something that won't happen in our lives if we don't make intentional space for it.
In – going deeper in Christian community
Bless someone in your community everyday.
As we are planting a decentralized network of cells on Omaha campuses it has been a challenge for us to build a broader sense of community. Building habits of intentionally blessing one another helps us go deep and cultivate a value for friendship. Praying for one another, following up about that thing your friend has been dealing with, sending encouraging texts; these can be daily habits.
Eat a meal with someone in your community every week.
I've been soaking in Luke/Acts for the last nine months or so, and one thing that shows up on almost every page is food. The dinner table is where life happens, where relationships are built, and where cultures are crossed. It's been awesome to see students learning to really care for one another simply by eating together with a purpose.
Out – following Jesus into mission
Reflect each night on where you partnered with or resisted the Holy Spirit
Students have been surprised not to see "share the gospel every day" or something like that on the list. And that would be a great discipline! But the best practice for fruitful risk-taking in mission is learning to recognize the Holy Spirit's leadership everywhere we go.
It's easy to be busy for the Kingdom. But where is the Holy Spirit actually inviting you to partner with Jesus in mission? Think about the last week. Were there times when you really recognized the Holy Spirit inviting you to do something? "Ask that lady if you could pray for her." "It's okay to be late to your meeting, you need to talk to this guy." "Ask that family if there's something you can do to bless them?"
A couple weeks ago a friend of mine felt the Holy Spirit nudging him at the gas station to buy gas for a couple he didn't know. It turned out that they had just put a couple bucks in their gas tank because it was all they had. That opportunity, sparked by the Holy Spirit, turned into a time of deep sharing and prayer together. God showed up!
I don't know if this fits with your theology, but
I think that this is how Jesus did ministry, too. Yes, Jesus was God. But he really did become fully human. I think Jesus gave up omniscience at the incarnation, but he was filled with the Holy Spirit and so are we. Maybe if we have the same Holy Spirit living in us and leading us then we really could do "greater works than these" as Jesus himself said we would.
Eat a meal with someone outside of your community every week.
This practice has opened so many doors for our students. In fact, it's blown the doors off of their hinges. They probably eat meals with non-Christians every week anyway. But turning it into an intentional discipline for the sake of relationship and missional opportunity has been huge.
In the first week of applying this practice, two different students got meals with different groups of international students and saw walls come down because of food. It's just a natural place to share about culture, family, and even spirituality. Both of these dinners opened doors to plant new cells among new groups. And that was just the first week!
So have a neighbor over for dinner. Take advantage of your lunch break to really get to know your co-workers and find out what Jesus is up to in their lives. Next time you pass a homeless person on the street don't just hand them money, buy them a meal and eat with them. Let's be intentional with our meals and eat our way into the Kingdom of God!
Help me make this better! What are your essential practices for rhythms of mission?