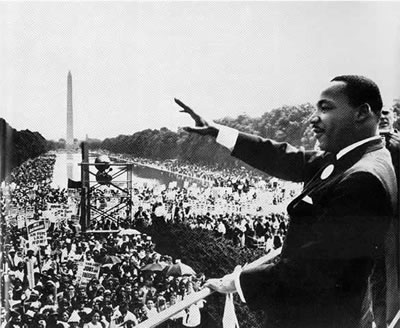 As Martin Luther King Jr. day is fast approaching, it is amazing to realize that it was 50 years ago that he offered a prophetic vision of a "day when all of God's children, black men and white men, Jews and Gentiles, Protestants and Catholics, will be able to join hands and sing in the words of the old Negro spiritual: 'Free at last!  Free at last!  Thank God almighty, we are free at last!"  Martin Luther King Jr, like other prophetic people share with us visions of a preferable future.  They inspire us to pursue God's shalom, to take a hold of God's dream for this world.
We see pictures of God's dream through prophets like Isaiah, seers like John, where peace and justice flourish and the wolf and the lamb lie side by side.  Prophets call the people of God to live in God's new social order and stand with the poor and oppressed.
I want to share some of my favorite quotes from Martin Luther King Jr. to inspire prophetic people today to continue to dream God's future, and call others to live into that future.