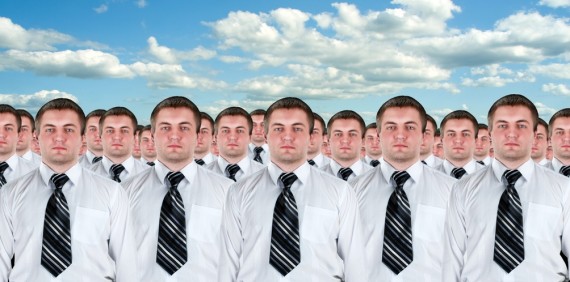 That is why we are offering a different picture of life in the church than most of us are seeing.
Obviously we have set up this blog to push hard for the vocations of Apostle, Prophet and Evangelist in the church. To some this can seem like favoritism, to others like competition.
I have already fielded a few emails and comments wondering this very thing.
This is a fair question and one that must be answered.
In short, we are not saying that A.P.E. is favored or better. We fully believe we need the whole council of vocations found in Ephesians 4 to be a healthy church.
But the church in the western world has done such a poor job at teaching on Ephesians 4 and we have not differentiated enough, so the A.P.E. has been covered up big time…by clones!
Cloning
I would argue as Alan Hirsch does in his book, "The Permanent Revolution" that we have fallen into an act of cloning in the Western Church!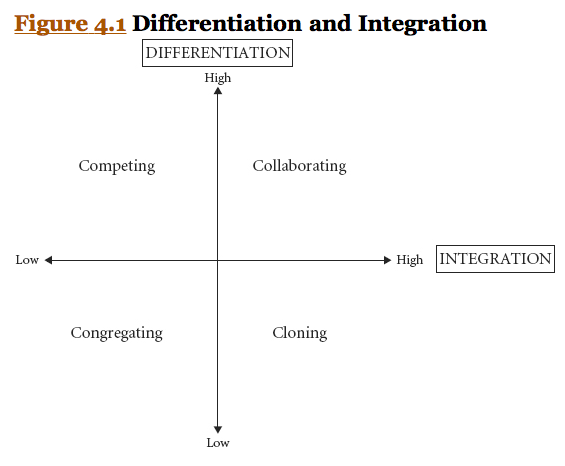 Every church or organization struggles with the tension between differentiation and integration.
When it comes to Ephesians 4 it is no different.
We are not doing a great job at all differentiating between Apostle, Prophet, Evangelist, Shepherd, and Teacher and because of this people are copying what they see in leadership.
Alan Hirsch argues that the church today mostly exists in the cloning quadrant and this is how he defines that:
"This may be one of the most common scenarios within the church. Without a way to recognize and affirm diversity, the operational needs of the organization end up determining the roles that people play. If the organization is not proactive in differentiating and integrating, then charismatic leaders will become the primary point of reference for what constitutes legitimate forms of ministry. In essence, either the organization or influential people end up defining the ministry culture of the community."
When we as leaders in the church don't help people differentiate well but model from up front who we are, then many people are going to copy us and assume that is what a "good leader" or Christian is.
Because the church has mostly modeled "Pastor" and "Shepherd" and "Teacher", many people believe that this is what it means to be a big time Christian.
Of course those roles are important, but because we haven't helped people differentiate through teaching the whole counsel of vocations in Ephesians 4 and using proper language, most people clone pastors and teachers.
It is all they see and hear about!
This blog is pushing against that by offering up stories, language and frequent thought leadership on the A.P.E. vocations.
Some may ask or argue that we are setting this blog up in a competitive way…we are pushing for just three vocations, we are saying that these three are best and we are doing what we criticize…empowering some but not all the vocations.
Again, that is a fair point.
But this is what I say:
If we are stuck in the cloning quadrant, or for that matter congregating, then we need sites like this and focus like this to swing the pendulum back to a healthy quadrant.
No one wants clones!
Our hope with focused and passionate writing about A.P.E. vocations is that the church will come back to its intended purpose.
COLLABORATION
We hope to move us even a little bit closer so we will start to be a people located in a collaborating quadrant where differentiation and integration is high!
We understand that to some it could be seen as competing with pastors and teachers.
At our worst that could be true.
But we genuinely hope and fight and write for this blog to bring us more closely towards the collaborating quadrant.
I hope for these few things to happen
Some A.P.E.s that are cloning pastors or teachers because that is the only model they have would stop and start acting in the way God has made them. That this blog would give them the vision and language to differentiate.
Some pastors and teachers that have spotlight and influence would start differentiating in their language and teaching and help their congregations see the five fold callings for all believers.
Some of you that are young, and just beginning your ministry would be incepted with this theology and the Holy Spirit would grow that in you so when you are leading your movement or church, you would be one who helps others differentiate and integrate well.
That we would start seeing more and more healthy examples of churches and ministries operating out of the five-fold vocations. ALL OF THEM!
Do you think the church is stuck in the cloning quadrant? Why or why not?