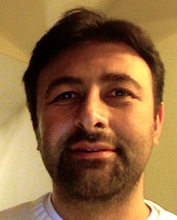 This is a guest post from Eddy Ekmekji. Eddy works in with me in Los Angeles as part of the InterVarsity Divisional Leadership team. He is the Director for Black Campus Ministries in LA. Eddy shared a devotional with us a few months back about ministering from the margins, not just to them and I thought it was fantastic. I asked him to write us a post and he kindly did! Enjoy!
[This is part of a series on John The Baptist as Prophet. You can read the other posts here!]
A few months ago, I came across Luke 3.1-3 in my morning devotionals where Luke sets up the scene that describes John the Baptist's ministry. In the three verses, Luke drops eight names, seven of whom would have been some of the most powerful men in political and religious leadership. Along with those names, Luke carves out the various regions of power where these men exercised their might. In contrast to these centers of power and men of power, we read of the word of God coming to John son of Zechariah, and it coming in the wilderness.
The word of God did not come to the men of power or to the places of power, but it came to a person of obscurity living on the margins of society. And as we keep reading the story, we see the incredible ministry that John has in proclaiming his baptism of repentance for the forgiveness of sins. People from all walks of life were going out to him to be blessed by his ministry. The person on the margin spoke truth to power.
The word of God came to the margins and ministered from the margins. The paradigm for how God blesses the margins is rarely that. We talk about missions or ministry as going to "those people over there who need the gospel." We look at the inner city as devoid of faith and gripped by sin and the ills of society. We look at the corners of campus that have not responded to the gospel, and we extend judgment on their barriers and lack of faith in Jesus. And because we have been blessed, we feel the conviction of leadership to go and bless the least and lost—after all, it's commanded in scripture.
Yet, our prophetic leadership is not to go and take people to the margins to bless the margins, but to believe that the word of God comes to the margins and ministers from the margins. The Lord had deposited incredible faith and a prophetic ministry in John. And though the centers of power needed to be transformed, God began that process from the margins. Ministry was not to the margins but from the margins.
Eddy on the Margins
Over the past 15 years, I have led various teams to all over the world. And one of the dominant themes has been how much my discipleship was formed by the word of God that did not come in my suburban context, but in the garbage villages of Cairo or the destroyed homes in New Orleans. After taking a trip to Southern India three months after the tsunami of 2004, the Lord spoke to me on the flight home about my lack of grace and self-control when it comes to anger. I don't know why God would take me half way around the world to teach me about my anger, but he did. It turns out that in South India, I needed the ministry of the local church more than it needed me.
This paradigm of ministering from the margins also developed while serving on campus at California State University, Northridge (CSUN). At CSUN, I had the privilege of ministering among many Black Men—a student population that is grossly under-represented on our campuses. Black Men represent 7.9 percent of 18-to-24-year olds in America but only 2.8% of undergraduates at public universities. And once on campus, Black Men have the lowest graduation rates and highest dropout rates of any group on campus. At my undergraduate fellowship, Black men were on the margins of our 200+ student group. Yet for some reason, God sent me to CSUN and led me to build our witness on campus with Black men.
During my 10 years on campus, my development as a leader and as a disciple was being formed in community with Black men. While the Lord has now given me a wider context for leadership, the lessons that are shaping my leadership today are rooted among a group that is unfortunately unreached and marginalized on our college campuses. I went to CSUN to bring the word of God to the students only to discover that the students brought the word of God into my life. Ten years ago, I had no category that one day I would direct our ministry to Black Students in Los Angeles, but that call is not all that odd considering that how it was developed.
My Third Child Liam
Some of my musings around prophetic leadership giving voice to the margins, have been fueled by the birth of my third child. Liam was born in October with Down syndrome. My initial set of reflections flowed around my anxiety of how to rear him in a hostile society. I do not want Liam to be a burden to others as he grows up. Through Luke 3, the Lord spoke to me about Liam and other children and adults with special needs. Liam would be on the margins of society and perhaps he will provide a prophetic voice to shape people's eternal lives. I hold on to hope that Liam will not be a burden but a voice that would cry out from the wilderness and call people toward repentance.
The fruit of inner city or overseas missions projects or campus ministry, may not show itself in the transformation of the city (though that does and will happen), but it is primarily evidenced in the lives of transformed men and women who know how to use their privileges, their gifts, their finances and their time to honor and glorify God. While ministering on the margins, the Lord formed convictions that would guide them wherever God called them. The fruit of my ministry at CSUN was not necessarily in campus renewal (though I certainly still pray for God's spirit to pour forth on campus), but in transformed lives such as myself.
For those of us who live and minister in the centers of power and privilege, we exercise prophetic leadership by creating space for our communities to be blessed and ministered by those who are on the margins. We exercise prophetic leadership in our communities by giving voice, influence and power to the margins, so that it is from that place that our communities are being transformed and shaped by the convictions of God.
[This is part of a series on John The Baptist as Prophet. You can read the other posts here!]