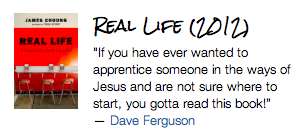 We are giving away 5 copies of James Choung's new book Real Life!
We are really excited in this space to promote this and get it into your hands. This is a perfect book for those of you shaping mission in your churches because it gives a great paradigm for discipleship and following Jesus. It is a a book that every A.P.E. leader needs to read.
Make sure to enter yourself to win a copy by following the steps below.
Some of you may have seen James's article yesterday detailing the release of his new book. If not make sure to read it!
But you can also check out this 3min video that brings you into the book! You're gonna want it after watching this!
[tentblogger-youtube ep8XM5IFWsI]
Here is how to enter yourself for the drawing…
You can enter the drawing by doing any one of these four things. Each one is a separate entry, so you can have multiple shots at this book if you do them all!
Comment (2 winners)

Comment on this post below and share with us

one favorite thing you do when discipling others

. (2 winners)

Twitter (1 winner)

Tweet this post (below) using @releasetheape in the tweet. (each tweet is +1 entry)

Facebook (2 winners)

Comment on our Facebook Page telling us why you want the book!
Share the post that is on our Facebook Page on your wall or in a group (make sure to share the one on our wall or I cannot tell)
So just to be clear, you can win by commenting, tweeting or Facebooking!
You can tweet as many times as you want for a chance to win!
The contest will be open all week!
I will notify you next week if you have won by replying to your comment, tweet or Facebook post!
Five Books will be given away this week. *All winners will be chosen randomly*