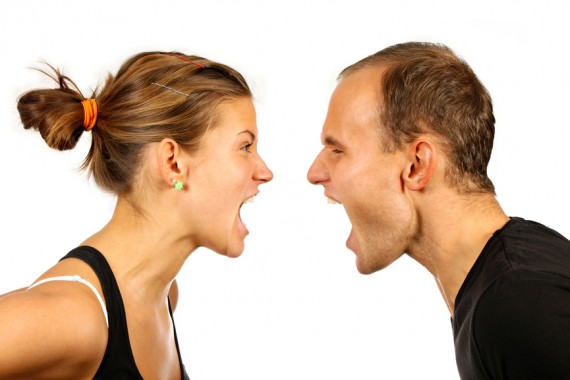 If we want to reach our unreached neighbors with the love of Jesus Christ, then we have to show them what Jesus can do for them. We have to show them what transformation really looks like.
And unfortunately that transformation is going to be seen through your weakness being perfected in Christ. They need to  see the places that we fall short in our character so we can then allow them to watch us as we pursue Christ and He transforms us.
It might be anxiety, lust, materialism, envy, jealousy, or greed. I don't know what your genuine short fall is.
But mine is definitely anger.
Tonight I blew up at my wife
Just tonight in our church council meeting (we do it on Google Talk) I got really mad at my wife. I took something she said and blew it way out of proportion. We had to shut the meeting down for 10min so my wife and I could resolve. It didn't even work. We got back online and spent the rest of the meeting getting counseling from the other couple and them revealing to me their concerns about my anger and how to grow in that. It was a giant humble pill to swallow and the worst parts of my character were being handed back to me on a platter.
Their wisdom was right and I thanked them for sharing with me and instructing me in righteousness. Really, I am thankful that I have community that can lovingly call me out, watch me fight unfairly, and guide me back to the path of Jesus.  They see my full life.
But the reason this is helpful beyond my own marriage and personal holiness is that my neighbors need this testimony from me.
My Angry Neighbors
It is not a coincidence that God has burst open significant conversations with two of my neighbors in the last week. Since these encounters I have been praying without ceasing for God to reveal to me how to witness to them in genuine ways that make sense to them. I know they are ready for the gospel but I don't fully know how to deliver it to them.
One of my neighbors spent Friday night hanging out with me in my man cave confessing to me his anger and frustration with his family and some of the horrible things his wife is doing to him. He has good reason to be angry but he is lost and unhappy and searching. He is a 50 year old Japanese Buddhist guy who has never talked about Jesus once before. He needs a friend to talk to and he is starting to like me. He asked me Friday,
"Do you really think there is something more out there that can help me?"
The second guy is a neighbor that I have been playing water volleyball with all year. He has massive anger problems and blows up all the time. He blew up at volleyball just on Sunday and quit in the middle of the game. He confessed to me during our car ride that he has major anger problems and needs help figuring out life. He said,
"I just feel like there has to be more out there, Beau. We need to talk about what the heck happens when you die. Is there more or not?"
We are scheduled to meet up next week for a beer and a great convo. He is a 52 year old alpha male white man.
But I left that conversation Sunday night praying to God,
"I need something real to share with these guys on my street, Lord. I need some way to show them my life and that I relate. I am not sure how. They are both older and so different from each other and me. I need to show them that the gospel is real and can change them, just like it has changed me so much over the last 12 years."
Anger is the way
Well tonight I got angry at the council meeting and my anger was handed to me on a platter. I need to work on it and submit it to Jesus. I need his healing and transformation. I hate it, but I believe so powerfully in His grace that I know He will transform it if I keep opening my self to Him. I am embarrassed by it but not ashamed. God will win the day in this area because I am going to let Him.
But God is also speaking to me right now about how I have the fodder for the conversation with both my neighbors. I need to talk to these guys about my anger. I need to confess to them that I blew up at my wife and show them that I am fallen and need change. Anger gets the best of me sometimes too.
I need to show them that I am not some holier than thou person and that they can relate to me. I have real problems too.
But I also want to boldly declare to them that my answer is Jesus and I know he will transform me if I give him my life and heart. I want to tell them that I REALLY believe Jesus is alive and has the power to change the worst parts of us. He can give us new life and teach us to live the way life was intended to be lived. He is the only way to transformation in my opinion. Yes, you can learn to manage your crap, but if you want it transformed, you need the living power God.
I want to ask these guys if they will give Jesus a chance with their anger too.
So I praise God tonight that he is using one angry guy to reach a couple more on the block. These guys on my street need an angry guy being transformed by the power of Jesus to reach them. They need a guy who can relate. So pray for me because next week I am going to bring them into my real time story and show them how I am letting Jesus and the power of the Holy Spirit transform me into a more loving and compassionate husband.
How about you? How is God calling you to use your weakness to reveal his power to those that are not yet following Him?
[You can read an update to this conversation here.]